Annual Convention 2016, Freiburg
The Annual Convention took place from August 1st till August 5th, 2016. More than 30 researchers from Freiburg and Vancouver took part in the event.
Once a year the researchers of the IRTG 2079 meet to discuss their research, plan further projects and publications and strenghten the network between the two universities. Additionally the Annual Convention is an important part of the structured graduate program: All participating PhD candidates give lectures on their current research projects, there are lab tours and posterpresentations. The Annual Convention also hosts a personal meeting of the PhD candidates with their supervisors from Freiburg and Vancouver, where their project, their performance and the further collaboration can be discussed.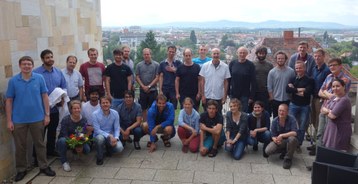 Of course there was also time for social networking and informal exchange: the IRTG members played soccer, joined a hiking trip and learned more about Freiburgs history during a guided city walk.
The Book of abstracts of the 2nd Annual Convention is available here.