07.11.2017 - Stijn Mertens - Single-Molecule Switching in 2D Materials at Solid–Liquid Interfaces
Institute of Applied Physics, TU Wien, Austria Chemistry Department, KU Leuven, Belgium
When
Nov 07, 2017
from

01:00 PM

to

02:00 PM

Where

HS II, Physik Hochhaus, Hermann-Herder-Str. 3

Add event to calendar

vCal




iCal










Living organisms are full of sophisticated molecular machines, and unravelling their structure and function continually inspires man-made nanotechnology, with expected applications from tribology to data storage.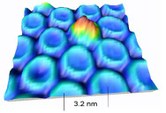 Figure 1. Three-dimensional view of boron nitride nanomesh on Rh(111) with one Cu-phthalocyanine molecule trapped in a pore.


In my talk, I will discuss mechanisms for controlled switching of the structure and properties of 2D materials at solid–liquid interfaces, from the collective scale down to single-molecule manipulation, at ambient temperatures and pressures.  The 2D materials include self-assembled structures of tailored organic molecules but also hexagonal boron nitride, Figure 1, an atomically thin insulator.  The switching events invariably depend on tipping the balance between intermolecular and adsorbate–substrate interactions, and may be controlled by a number of external stimuli: the interfacial potential at electrochemical solid–liquid interfaces, the chemical potential of ionic species in solution, intercalation of atomic species, or the electric field between an STM tip and the substrate.

References: Angew. Chem., Int. Ed. 53, 12951 (2014); Chem. Commun. 50, 10376 (2014); Small 1702379 (2017); Nature 534, 676 (2016)

See poster.